When International customers think about Blown Molding Machinery, one of the main concerns that come to their minds is quality and reliability, Taiwanese companies are well known to offer both plus good competitive prices.
Chen Way Machinery is a company that must be considered when we talk about this kind of machine. They have 30 years of vast experience that has achieved outstanding success within the industry. Also, they have been focused on their Research and Development constantly, in order to always be in the vanguard and offer the latest trends in the industry to its customers.
For Chen Way, one of the main concerns is customer satisfaction, no matter the circumstances. Since COVID-19 pandemic started, they have kept a non-stop 24 hours service, in which engineers and service teams have been always ready to respond to customer questions or inquiries from all over the globe.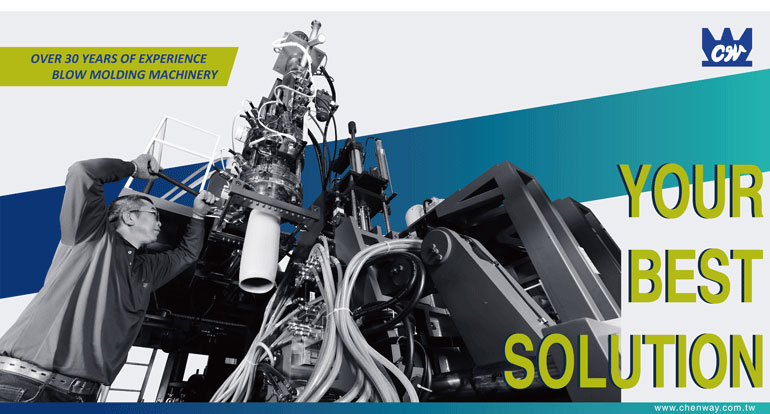 In the industry of blow moulding, innovation is the key. Chen Way focuses on improving its machinery designs and looks for different ways to benefit their customers for an increase of production, and they are also eager to find different ways to minimize the environmental impact of their machines. This is one of the main challenges that manufacturers are facing in different countries.
Moreover, in order to be innovative and excelling among customers expectation, Chen Way focuses in 4 aspects:
1) Efficiency
: Compromise with their customers, providing machines with high output performance and mechanical movement, especially on their Three Layers Jerry Can and the 200L Double L-Ring drum machine models.
2) Economy
: Energy and Space saving is one of the main points they consider when they start to design the products, since their machines run under the minimum amount of power usage, and without using too much space.
3) Service
: Their online customer service, rapidly answers all the inquiries regarding their machines. Moreover, their engineering team can travel to more than 30 countries to make sure that the machines are running well and smoothly after assembly.
4) Customized
: All their machines are 100% customized to match the user's requirements, including factory facilities layout and enhancement of the production output.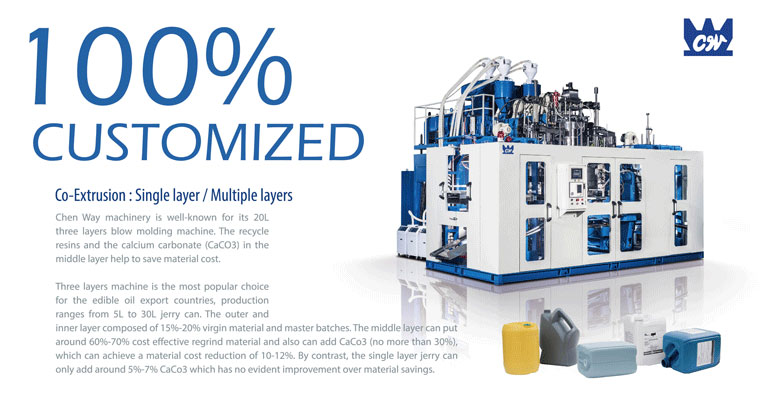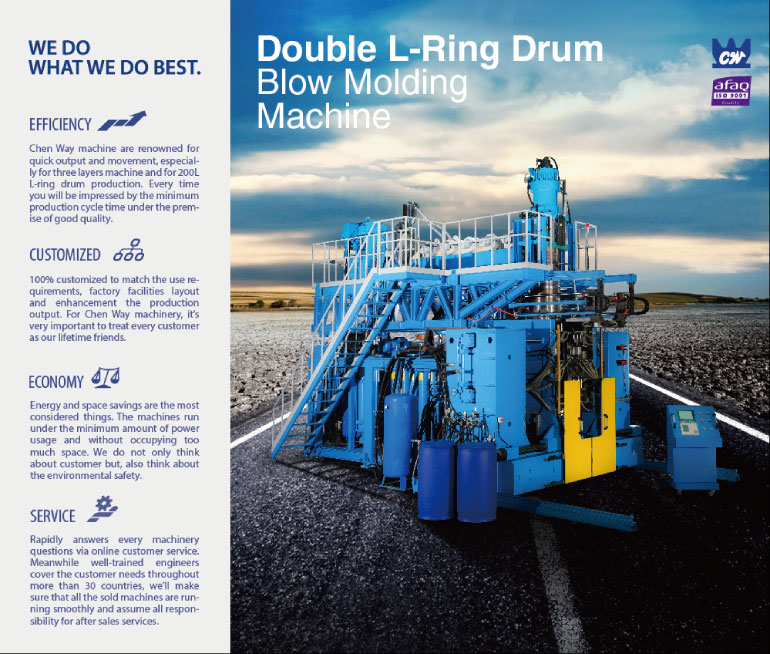 Nowadays Chen Way is the Southeast Asian market leader in Blow Moulding Machine, and also with a solid presence in India, Africa, Middle East and others.
In order to reach more customers globally, Chen Way has different cooperation with local partners and agents in different continents that can help them provide different kind of services, in many countries such as India, Malaysia, Vietnam, Indonesia, and much more.
To be able to get closer to their customers, you can find them in different channels, such as their
Official Website
,
Youtube Channel
,
PRM-TAIWAN B2B Platform
,
Facebook Page
, and e-mail.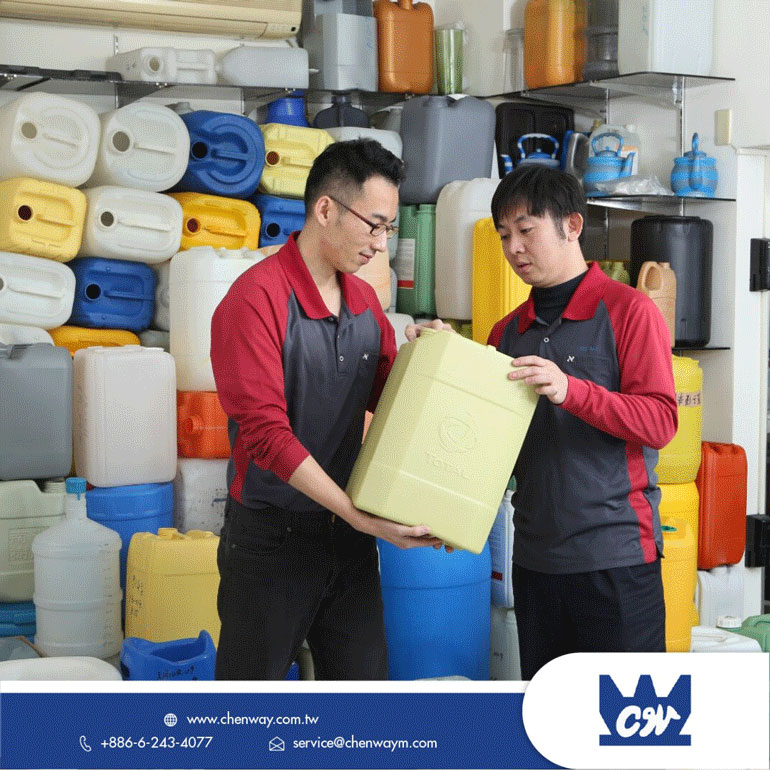 PRODUCTS
Chen Way has been in the Blown Moulding Machines Industry for more than 30 years, making them one of the most experienced manufacturers within the Taiwanese industry. The machines range are: Small Blow Molding Machine, Medium Blow Molding Machine, Medium Co-extrusion Blown Molding Machine, Large Molding Machine, Supersize Blow Molding Machine, Semi-auto Stretching Blow Molding Machine and Double L-Ring Drum Blow Molding Machine. All these machines are fully customized by customer request.
The main concern for most of the actors of the industry is the environmental protection. Chen Way is not the exception. Their machines include a Parison thickness controller that optimizes the parison extrusion, allowing it to reduce material waste and improve the product's quality. Their 3 layers machine also can add and process recycle material and calcium carbonate (CaCO3) in the middle layer of the jerry can, this helps in the reduction in the emission of greenhouse gases by the final product, and is also proven to save on material cost and increase the manufacturer's income.
DOUBLE L RING DRUM BLOW MOLDING MACHINE
One of Chen Way's Main Products is their Double L Ring Drum Blow Molding Machine, which is suitable for up to 250L. The machine's main features are its fast injection speed and mechanical movement, which helps to assure a perfect L-shape for double L-ring drums.

To ensure the quality of the final product, Chen Way realizes 3 different kinds of test which consists in dropping the final product from a 1.5 meters height by the front part, body and the angle side.
If you are looking for a machine with an outstanding performance in every aspect this is your right choice.
The main applications of this model are Single L-Ring drums, Double L-Rings drums and open top drums, with a volume range of 100L to 250L.
Also if customer wants to add auxiliary equipment, there are different choices which will improve machine performance and have high production, such as: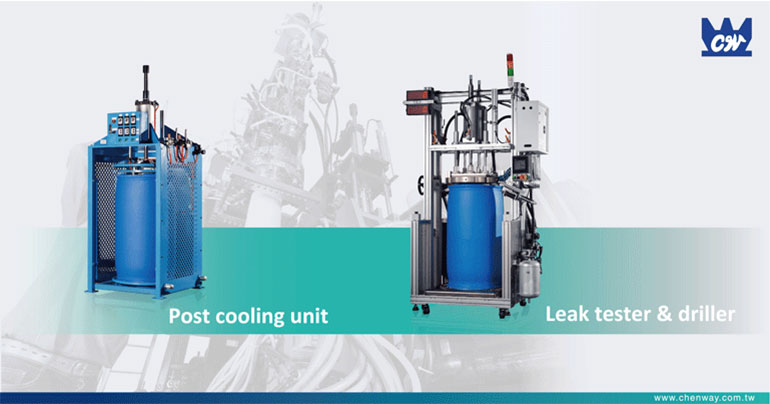 Post cooling unit: Has a special cooling unit with a high capacity that helps forming and completing the production of the plastic drum faster, which saves time and increases production capacity.
Leak Tester and Driller: This unit helps to test for drum leakage and automatically makes the drill holes that prevents standing water on the drum, this helps to save production time by completing the drum's total cycle faster.
Rotary cutter for wide neck drum: It helps to increase the quality. Each unit has an adjustable plate to cut different sizes of drums.
If you are interested on Chen Way Double L-Ring Drum Blow Molding Machine, please check the link below:
Double L-Ring Drum Blow Molding Machine
And video:
To check other Chen Way Blow Molding Machinery, please inquire in the following link:
Chen Way Blow Molding Machines

TOP


Back